The Maynard High School DECA club is a competitive business club that will be competing at their district competition in Boxborough on December 12th and 13th. Volunteer judges are needed to run this competition. If you think you may be interested in volunteering to judge on one or both of these days (roughly 8am-2pm and lunch is served) or just want some more information, please reach out to the advisor, Emily Pileeki at
epileeki@maynard.k12.ma.us
. Thank you!
Check out our MHS student newspaper, The Tiger Times! A paper edition will be printed soon, but the newest stories are up online at
https://maynardhighnewspaper.com/
Welcome to our German Exchange students and their teachers! Thank you so much to our host students and families. Maynard High School is truly a home to global scholars!
The most action-packed Open House in town -- TONIGHT at 6:00 PM!!!!
Open Gym today 10:30 - 11:30! Everyone welcome!!!
Tonight's game will be played in honor of Maynard's veterans. Please bring any non-perishable food items you can to donate at tonight's game. Veterans will be admitted free of charge.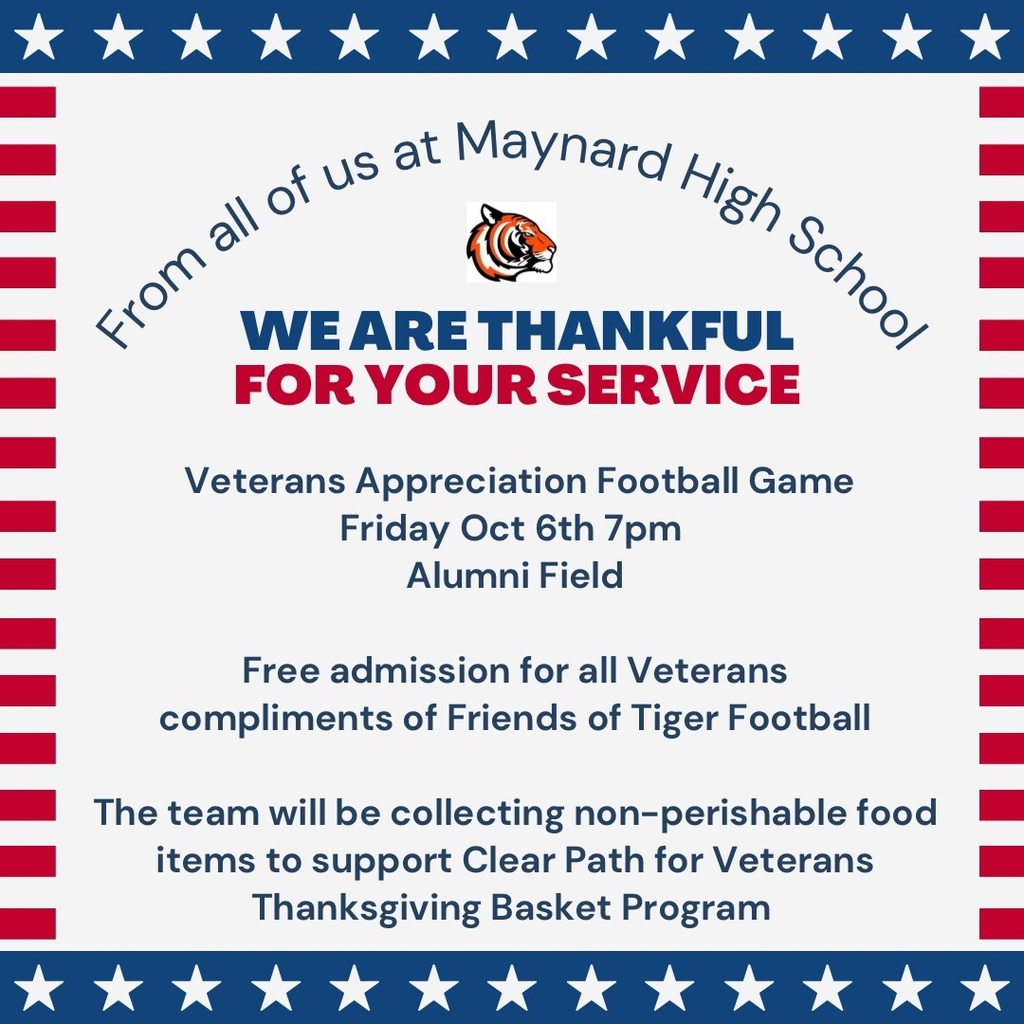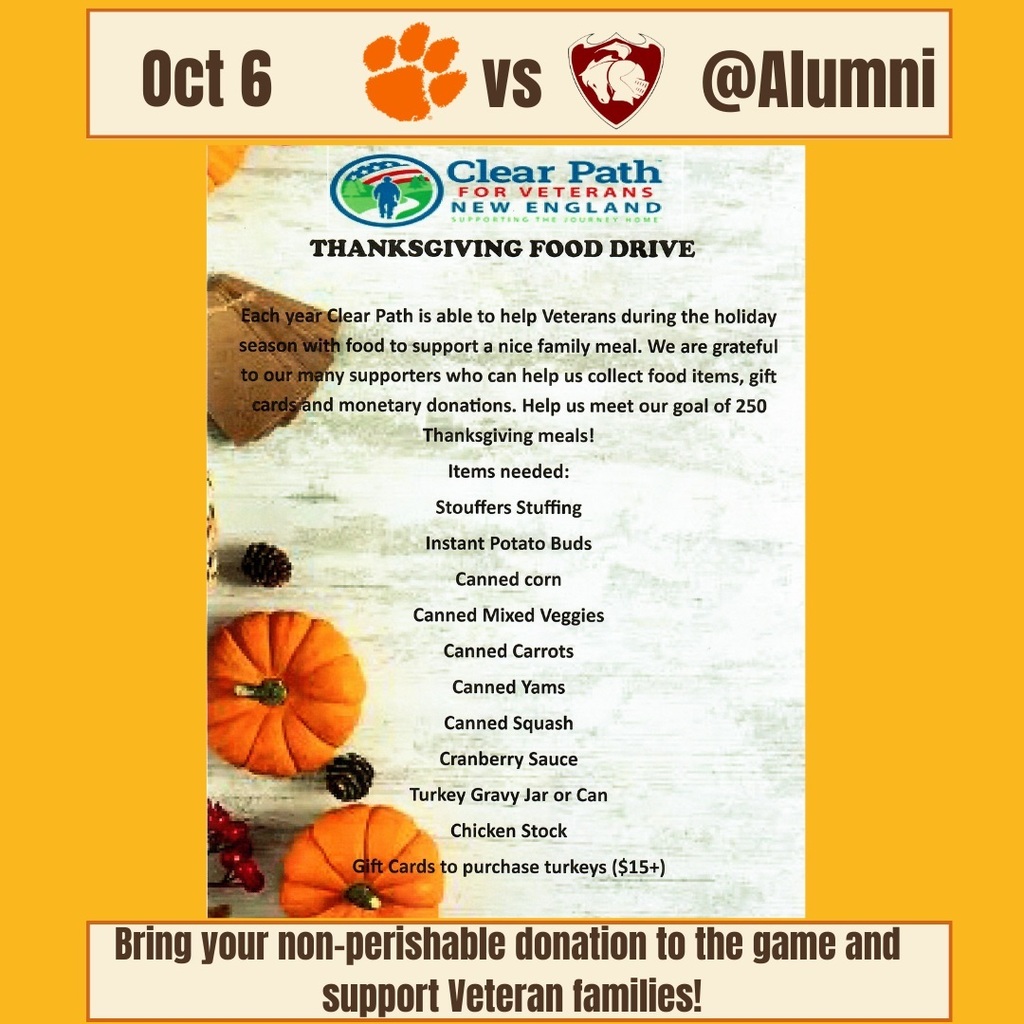 Do you think your student would thrive in a small high school? Would personal attention, music, art, varsity athletics, and multiple leadership opportunities be the right fit for your teen? How about the opportunity to run a radio/tv station? Open House for ALL Middle School Families next Thursday, starting at 6 PM. Potential School Choice Families are Welcome!!!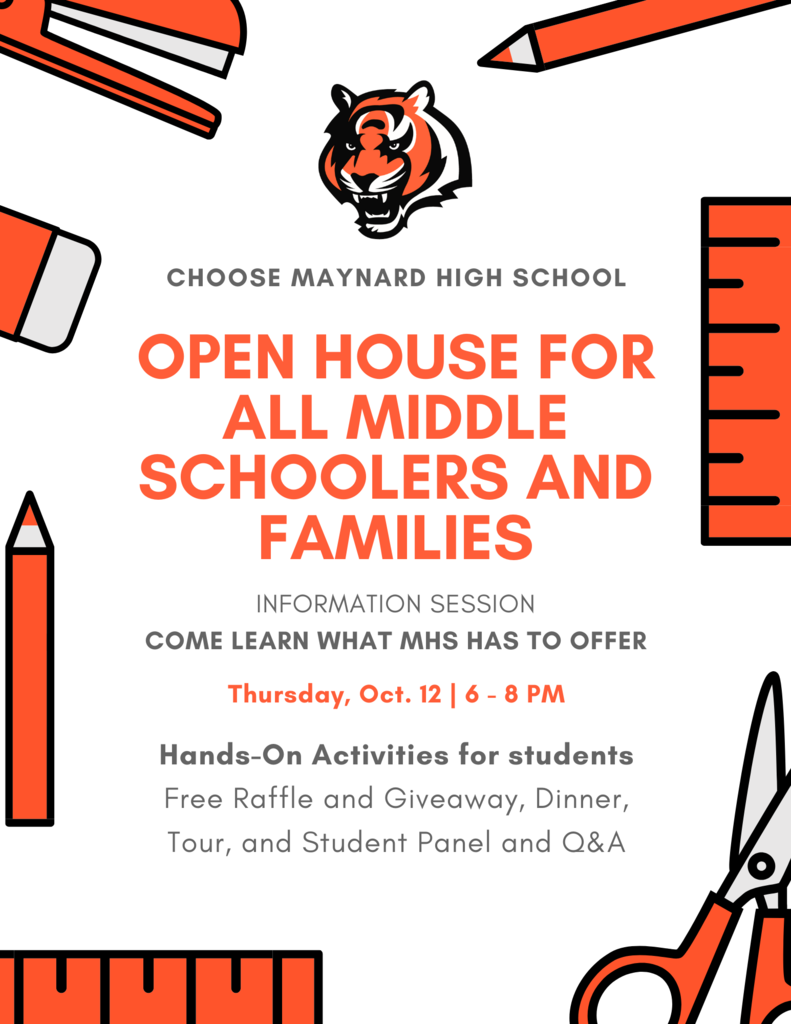 Come see us at Maynard Fest -- enter our merch raffle, and grab some swag!!!
Come see what Maynard High School is all about! Open House for all Middle School students and their families on October 12!
Don't forget to come to Back to School Night tonight at 6:00 PM. The entire high school will be ready for you to explore! And don't miss the Amnesty Bake Sale while you are here!
MHS Student Council started their big weekend with a Morning Tailgate to celebrate our first home football game! Thanks to everyone who made it great!
Maynard High School Families, check your email for an important link! There is a Q & A with the Principals tonight at 6:30. Join us to find out what's REALLY going on at the High School!
Freshman BBQ – Maynard High School Cafeteria and Patio Monday, August 28, 6:00 PM Tours, information booths, and a great meal for parents and family members Activities, tours, and a great meal for incoming students Bring the whole family to meet our high school teachers!
Parents of New Maynard High School Students -- Meet the Principals Tonight! Check your email for the Zoom link, or email
eyork@maynard.k12.ma.us